AC Control Panel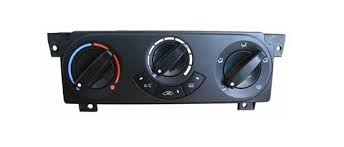 If your vehicle needs an AC control panel you may be running around with no air conditioning and not sure where to start. The dealership charges too much and you just need a good part to get your car working again, right? Used Parts Central is a really good place to locate used auto parts and there is no cost for you to use it, ever!
The first step in this whole process is make sure you are buying something you need. Just because the air conditioning is not cold, the heater does not blow hot air or just the fan won't come on does not mean you need to replace the AC control panel. Most digital type panels can run a diagnostic on your car and give you a code that will determine what is wrong. To run the your panel in that mode, there is usually a series of buttons to push. Google your car make model and ask how to do this and you will find what you need.
After you determine the AC control panel has failed, just fill in the form at the top of this page and we do the work for you. Suppliers from all over will email you quotes with different prices and warranties. Take your time and speak to several then make your purchase! Never send cash, credit card only!